Southeast Missouri State University Press proudly presents
A new comic novella - From Tickfaw to Shongaloo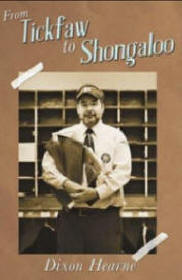 Sole Runner-up in the 2014 Faulkner-Wisdom Competition, judged by Moira Crone, and has placed on John Dufresne's Recommended Reading List. From Tickfaw to Shongaloo is now available from Southeast Missouri State University Press and other book sellers. Also available at Amazon.com.
◊▪◊▪◊▪◊▪◊▪◊
From Tickfaw to Shongaloo is a comic Southern tale told in the first person by Raylene, a local gossip in little Stokely, Louisiana. Bert Dilly the postmaster (we learn, has been spreading town gossip like everyone else), fueled by his habit of being a little too involved with the local mail (opened or not). A disgruntled maiden lady writes a scathing letter of complaint, which is reported to the stat postmaster, and Bert's brother, J.T., accuses Bert of mental incompetence (he wants the family land). Bert is replaced until the charges can be taken up by a federal court in Baton Rouge.
Most of the town rallies around Bert, but the hearing devolves into a kangaroo court, turning citizens against each other, egged on by a crooked lawyer who crumbles when the whole matter blows up in his face, through his own arrogance and igorance of certain facts (crazy as they were). After three days of ridiculous testimony and unreliable evidence, the judge must make his landmark decision about Bert, the mail, and gossip in Stokely, Louisiana—where the townsfolk can hardly wait to exchange their own versions of honest truth.
Dixon Hearne has taken up the estimable mantle of Southern comic writers that stretches back to George Washington Harris and Mark Twain. Digressions are the sunshine of this hilarious novella, and you'll be reminded of Eudora Welty and Laurence Sterne. I haven't laughed so hard since A Confederacy of Dunces.
—John Dufresne, author of Louisiana Power and Light and No Regrets, Coyote

Dixon Hearne gives us From Tickfaw to Shongaloo and a narrator who lets loose memorable torrent of small town gossip and innuendo that will make your head spin.
—Jill McCorkle, author of Life After Life and Going Away Shoes

With From Tickfaw to Shongaloo, Dixon Hearne presents a literary farce sung to us in a hilarious, yet authentic, voice. There are eccentric characters by the bus-full in this novella, and that makes for one wild and sidesplitting ride.
—Skip Horack, author of The Other Joseph, The Eden Hunter, and The Southern Cross

His novella has enough eccentrics to start five freak shows, a very nosy postmaster, a town that rallies to defend their crazies, and three days of testimony in a Baton Rouge courthouse meant to keep everybody in one small town in everyone else's business until the end of time. Good writing and quirky characters.
—Moira Crone, author of The Not Yet, What Gets into Us and The Ice Garden