BOOK REVIEWS: PLANTATIA
nnnnnnnnnnn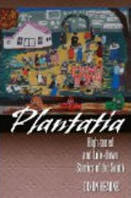 Kel Munger: Sacramento News and Review

:

Southern fried stories

--

Plantatia

by

Dixon Hearne

Dixon Hearne teaches in Southern California, but his roots run deep in the Mississippi Delta—as do his stories. Plantatia: High-toned and Low-down Stories of the South is set deep in magnolia country, where a variety of characters in rural settings and small towns deal with life and each other. The title tale re-examines race and class, as Plantatia, an illegitimate, barely literate young woman trades a bad employer for a good one. In another, a small-town love triangle leads to a knock-down, drag-out bar fight and a shot at fame on Maury Povich's show. A standard device to start a love story—a man spies a woman bathing near a bayou sandbar—turns out to be anything but straightforward. These stories rely on character development, and demonstrate that "country" or "Southern" are not synonyms for "dumb." Instead, there are wise folks and fools, and it's not as easy as one might think to tell the two apart.

vvvvvvvvvv

NewPages: List of "New and Noteworthy Books" -Plantatia: High-toned and Lowdown Stories of the South

Darien Cavanaugh, editor, Yemassee:

For the past decade, Dixon Hearne has been one of the quiet heroes of American letters. Widely published in literary journals and reviews, he always leaves his readers with that feeling of being satisfied yet wanting more. Plantatia is full of familiar people and places—a wisteria-bound and oak-shaded South comprised of honky tonks, corner stores, mills, and revival churches populated by drunks, gossips, and scandalous preachers—part yarn and part folk in a way that is reminiscent of Zora Neale Hurston. I highly recommend Plantatia for aficionados of Southern literature but also for all readers who simply like a good story well told.

Norman German, fiction editor, Louisiana Literature; author of A Savage Wisdom:

Plantatia offers a buffet of headstrong and sassy stories sure to please every palate. Dixon Hearne is your tour guide through the high- and lowlife settings of an Old South revitalized by his keen eye and ear. These stories move with the patience of Eudora Welty and the confidence of Flannery O'Connor. To steal one of Dixon Hearne's phrases, you'll leave these stories "with your heart laughing out loud."

Billy Fontenot, editor, The Louisiana Review:

This impressive debut collection from Dixon Hearne mixes relaxed storytelling of small-town life with insights into the human condition, along with a little of that strange, sad, mystical state of existence found only in the deep American South.

Bev Marshall, author of Walking Through Shadows, Right As Rain, and Hot Fudge Sundae Blues:

Dixon Hearne is a born storyteller and reading his "high-toned and low-down" stories reminded me of those precious porch-sitting days when the tales of my relatives evoked both laughter and tears.

Darnell Arnoult, author of Sufficient Grace and What Travels With Us: Poems:

In this debut collection of stories filled with raucous characters and lively romps, Dixon Hearne proves he has mastered the Southern tradition of old-fashioned front-porch storytelling.